Ankylosing Spondylitis Treatment
---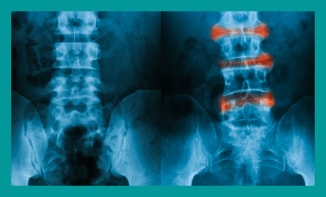 Our Ankylosing Spondylitis treatment London, we focus on the underlying issues rather than just the symptoms.
What is it?
Ankylosing spondylitis is an inflammatory disease that can cause some of the vertebrae in the spine to fuse together. This fusing makes the spine less flexible and can result in a hunched posture. If the ribs are affected, it may be difficult to breathe deeply.
Ankylosing spondylitis usually affects men more often than women. Signs and symptoms of ankylosing spondylitis typically begin in ankylosing spondylitis early adulthood. Inflammation also can occur in other parts of your body — most commonly, your eyes. Early signs and symptoms of ankylosing spondylitis may include pain and stiffness in the lower back and hips, especially in the morning and after periods of inactivity. Over time, symptoms may worsen, improve or stop completely at irregular intervals.
The areas most commonly affected are:
The joint between the base of the spine and the pelvis
The vertebrae in the lower back
The places where the tendons and ligaments attach to bones, mainly in the spine, but occasionally along the back of your heel
The cartilage between the breastbone and ribs
The hip and shoulder joints
Other complications may include:
Eye inflammation (uveitis). One of the most common complications of ankylosing spondylitis, uveitis can cause rapid-onset eye pain, sensitivity to light and blurred vision
Compression fractures. Some people experience thinning of their bones during the early stages of ankylosing spondylitis. Weakened vertebrae may crumble, increasing the severity of your stooped posture. Vertebral fractures sometimes can damage the spinal cord and the nerves that pass through the spine
Heart problems. Ankylosing spondylitis can cause problems with the aorta, the largest artery in the body. The inflamed aorta can enlarge to the point that it distorts the shape of the aortic valve in the heart, which impairs its function
Many patients have been told by mainstream medicine that there is no cure for their condition. Our Ankylosing Spondylitis treatment aims to diagnose the underlying issues driving this condition and address them with a functional medicine approach. The appropriate medical tests are run to identify underlying issues. Based on the results of these tests, a treatment plan is then formulated to meet each patient's unique needs – using non pharmaceutical medicine licensed by the UK Government. We do not use a one size fits all approach at our clinic.
We also address the gut issues, which are often associated with this condition.
References
---
If you would welcome this approach to your health problem
Contact Deborah's Medical Secretary for an appointment