Allergic Rhinitis Treatment
---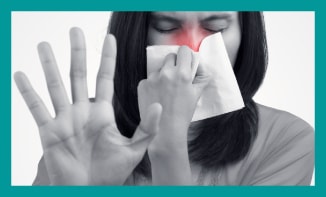 Allergic Rhinitis Treatment – There is nothing more annoying than feeling that constant drip of a sore itchy nose, which can strike at any time (more often than not at highly inconvenient moments). If a persistent runny and stuffy nose plagues you, it will reassure you to know there is effective allergic rhinitis treatment using functional medicine testing and non pharmaceutical medicine.
If you suffer with the frustrating condition of Allergic Rhinitis, it will strike a chord with you when we talk about attending meetings, giving presentations or generally going about your everyday business with the constant annoyance of a stuffy, running or dripping nose, a persistent nasal itch, coughing, headache and fatigue.
So many of our patients who endure these symptoms confide that they have, understandably, suffered a loss in confidence. They feel unable to fulfil their potential due to this condition being so 'visible', 'persistent', 'embarrassing' and the fact it requires them to 'constantly blow or wipe their nose'.
Many pharmaceutical prescriptions readily available for Allergic Rhinitis treatment address purely the symptoms and only offer temporary relief. At Harley Street IBS & Autoimmune Clinic, we seek to diagnose the underlying health issue that is causing Allergic Rhinitis. We use diagnostic medical testing to investigate and determine the clear root cause of the symptoms. Non pharmaceutical medicine, which is licensed by the UK Government's Department of Health, is then given as treatment for AllergicRhinitis.
This addresses the imbalances, which the test results highlight. Each prescription is prepared and dispensed to meet the unique needs of each patient. Our patients find that this gentle approach works better for Allergic Rhinitis treatment than a one size fits all symptomatic treatment.
We also address any IBS problems that often are associated with this condition.
Excerpt from the testimonial featured in The Guardian newspaper and written by Nicole Jackson, Editor at The Guardian
"…The NHS
After describing my symptoms, I was prescribed antihistamines then a nasal spray. I was disappointed there was no attempt to discover the cause. "GPs get little or no training with allergies so it's hard for them to refer on," says Lindsey McManus, of Allergy UK.
…The private clinics
…I have a lengthy consultation, tests and a follow-up…with a medical herbalist, Deborah Grant, who diagnoses "leaky gut"…. My confused immune system is producing antibodies, making it hypersensitive, and causing reactions to things normally tolerated.
Yet "leaky gut" is not a condition that is recognised by the NHS. When I ask Deborah Grant why, she tells me that people once laughed at Galileo. But, given that the NHS tests haven't thrown up any conclusions, I go ahead with the treatment.
The results
When I talk to my GP, he did not think my symptoms could be linked to my gut. But, after months of not being able to go a day without antihistamines, the supplements seem effective… I am impressed….Even my skin looks better…."
This holistic approach also usually works well for treating any gut issues or IBS symptoms, which are so often associated with Allergic Rhinitis; hence many of these related symptoms also dissipate or disappear too as the body is brought back to its equilibrium.
References:
---
If you would like an appointment for Allergic Rhinitis treatment
Contact Deborah's Medical Secretary for an appointment