---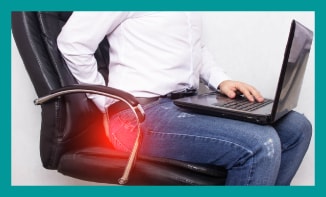 Anal Fissure treatment at our Guardian featured Clinic addresses the underlying issues, not just the symptoms. There are usually several underlying issues, which can be identified through diagnostic medical tests. Treatment is carefully tailored to meet each patient's unique needs. This approach works far better than a one size fits all approach.
Anal Fissure Treatment: What is an anal fissure?
An anal fissure is a small tear in the thin, moist tissue (mucosa) that lines the anus. An anal fissure may occur when you pass hard or large stools during a bowel movement. Anal fissures typically cause pain and bleeding with bowel movements. You also may experience spasms in the ring of muscle at the end of your anus (anal sphincter).
Anal fissures are very common in young infants but can affect people of any age. Our anal fissure treatment addresses the underlying issues.
What are the symptoms?
Anal fissures typically cause a sharp pain that starts with the passage of stool. This pain may last several minutes to a few hours. As a result, many patients may try not to have bowel movements to prevent pain.
Other symptoms include:
Bright red blood on the stool or toilet paper after a bowel movement
A small lump or skin tag on the skin near the anal fissure (more common when chronic)
Our treatment for anal fissure
Anal fissure treatment involves identifying the root causes of the fissure, and working to address not just the symptoms, but the underlying imbalance that caused it to happen. Once healing has occurred, guidance is given for maintaining proper bowel function and a good diet, which are both necessary for prevention of further episodes.
We also treat any issues related to IBS, which is often associated with this condition.
A 49 year old man presenting with high blood pressure and a very painful anal fissure, which had troubled him for the last two years:
"Having just finished a course of treatment under the auspices of Deborah Grant, I hope a fitting testimonial with regards to its success would be of some compelling incentive to try it. I was impressed from the start with the relaxed environs and professionalism of Deborah. Everything is thoroughly discussed and explained, so that you feel fully informed and actively involved in your own healing process.
My chronic problems responded quickly to the ttreatment and were resolved within four months and, as an unexpected bonus, I found seemingly unconnected conditions also improved too. I would not hesitate to recommend this approach, and only wish I had discovered it sooner!" Ambrose – London
References
---
If you would like professional Anal Fissure treatment
Contact Deborah's Medical Secretary for an appointment